How to Become
an Air Traffic Controller
Best Education Tracks, Key Skills, and Top Certifications
Air traffic control is one of those fields that doesn't require years of study but still comes with a high salary. However, it does require that you have keen attention to detail and very strong communication skills.
In this guide, we'll explore how to become an air traffic controller (ATC), including education options, required skills, and the certification process.
What Is an Air Traffic Controller?
An ATC is a professional who is responsible for providing guidance, assistance, and instructions to pilots. They make sure that airplanes take off and land safely and on time.
An air traffic controller also monitors air traffic overhead so they can provide accurate directions to pilots. They also offer support and guidance if a pilot is facing a challenging situation on air. Typically, an ATC works on the ground in a control tower, most of which are located near airports.
What Type of School Should You Attend
to Become an Air Traffic Controller?
To become an air traffic controller, you need to undergo very specific training. This job is strictly regulated by the Federal Aviation Administration (FAA). To work as an ATC, you must be able to show that you have the knowledge needed to ensure the safety of pilots and passengers.
To work as an air traffic control specialist, you must first get an associate or bachelor's degree from an Air Traffic Collegiate Training Initiative (AT-CTI) school. Then, you need to pass an FAA training course. Some community colleges offer these programs.
If you don't have a degree, but you do have years of relevant work experience that demonstrates your ability to take on serious responsibilities, you can still work in this profession.
Best Air Traffic Controller Education Tracks
When it comes to air traffic control, the only training you need is through the AT-CTI. Below, we will explain the degrees and courses that this training entails.
1
Air Traffic Controller Degrees
A fundamental step to becoming an ATC is to obtain an associate or bachelor's degree from a school that has partnered with the FAA to offer a program called the Air Traffic Collegiate Training Initiative (AT-CTI).
More than 35 schools offer this air traffic control training. Some of these include Hampton University, Jacksonville University, Metropolitan State University of Denver, and Miami Dade College. The average tuition for a bachelor's degree in air traffic control is about $20,000 to $30,000.
2
Air Traffic Control Courses
Before you decide to fully commit to a career in the aviation industry, you may want to get to know the basics of air traffic control to see if this career is a good fit for you. Introductory courses in air traffic control are a great way to get started. Schools such as Andorra Aviation Academy and CCBC Aviation Academy offer some basic training in ATC.
Then, there is a special ATC training program offered by the FAA Academy in Oklahoma City. Students who have already completed their AT-CTI degree program can then apply for this higher-level training.
To get in, students must submit a letter of recommendation from one of their AT-CTI teachers. Then, they must pass an FAA training and selection exam, as well as an FAA pre-employment test. Students who succeed will be offered a job, and will immediately begin training for the position.
How to Become an Air Traffic Controller: A Step-by-Step Guide
To become an air traffic controller, you must meet a couple of prerequisites. Below, we have listed some of the steps you must follow to launch a career as an ATC.
Get air traffic control training
The first step is to get educated. You should do this by attending an air traffic control course at one of the schools that partners with the AT-CTI program. In this program, you will learn the fundamentals of providing air traffic directions and assistance.
Pass the necessary evaluations
Once you've completed the first portion of your training, you will need to pass a couple of evaluations, including a background check, a drug screening, and a medical evaluation.
The next step is to complete the FAA's training program. To qualify, you must have a recommendation letter from one of your teachers, then pass the selection exam.
After you finish your five months of FAA academy training, you'll be ready to get some valuable professional experience. You can now start working in entry-level positions below an ATC to get familiar with their daily work. You will spend two to four years gaining on-the-job training.
This is an optional step in many professions, but in the aviation industry, you must be certified before you can officially start working in ATC.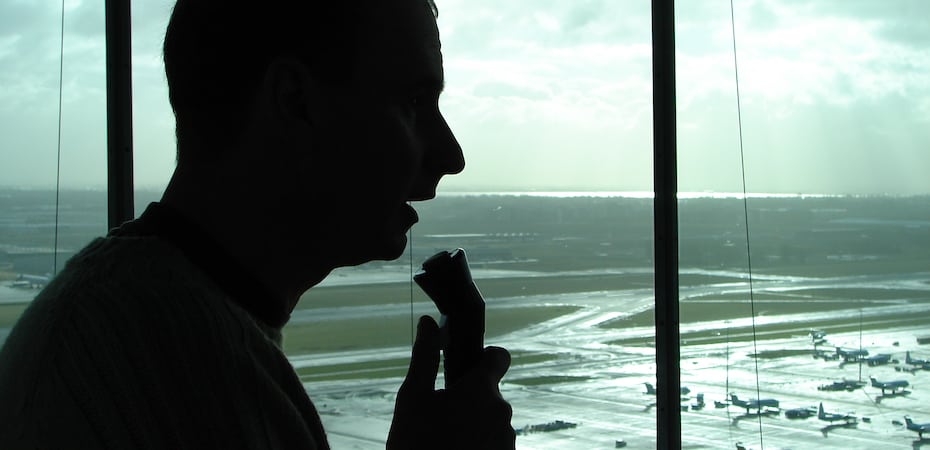 Key Air Traffic Controller Skills
Air traffic controllers must have a variety of technical and soft skills to be able to provide essential instructions from the control tower. Some of the most important technical skills include traffic control, assistance, flight operations management, and data analysis.
The most important skill an ATC needs to have is a clear understanding of how to control air traffic. They must provide helpful instructions that can be understood by military, commercial, and civilian pilots to ensure that a plane's takeoff and landing are performed safely.
An air traffic controller also needs to know how to provide rescue assistance in the case of an emergency, such as a crash landing. However, the main goal is to avoid those circumstances at all costs.
Monitor Flight Operations
Air traffic controllers must closely monitor the aircraft radar so they can inform pilots of any information that may be relevant to them during their journey. Besides that, they must also compile accurate daily reports on flight operations.
Although it may not seem important, an ATC must have data analysis skills. Air traffic controllers must collect and analyze data so that they can develop efficient flight plans that will reduce the possibilities of delays and increase safety. They will also use these data analysis skills to predict how changes in the weather may affect flight conditions.
Air Traffic Controller Salary and Job Outlook
According to the Bureau of Labor Statistics, the average salary for an air traffic controller is $130,420. This is significantly higher than the US national average, which is around $42,000.
The BLS estimates that the number of job openings in this profession will grow by about one percent from 2019 to 2029.
Entry-Level Air Traffic Controller Job Requirements
The basic job requirements to work as an air traffic controller are that you're under the age of 30, have passed the FAA's exams, and speak English clearly. You also need to be a US citizen by the time you take the FAA test.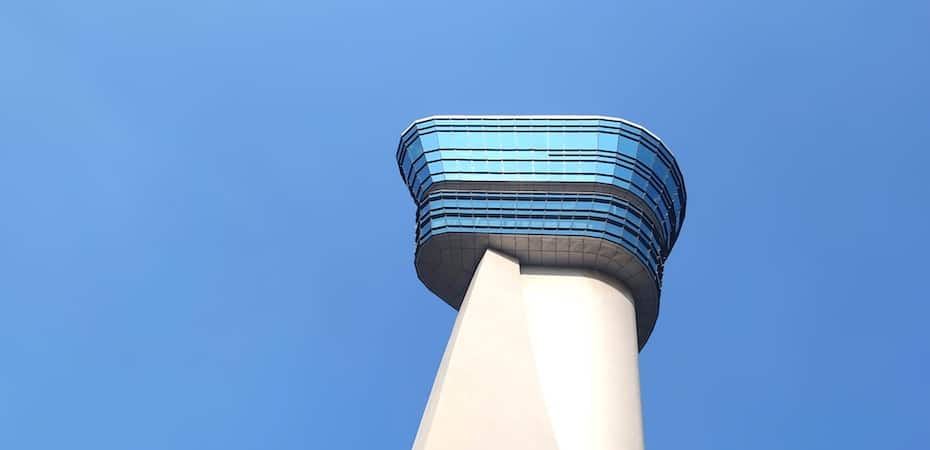 What Does an Air Traffic Controller Do?
An air traffic controller's responsibility is to enhance the security and efficiency of flights. They coordinate with pilots to let them know the best flight path to take, and warn them of any challenges they may face during the flight. You can see more of these responsibilities listed below.
Monitor the Movement of Air Traffic
The biggest responsibility of an air traffic controller is to monitor the movement of air traffic. They do this using radar to alert pilots about any traffic that is coming close to their path.
To maximize success in this area, it is preferred that ATCs have strong spatial awareness, coordination, and the ability to concentrate for long periods.
As we mentioned earlier, an ATC must generate daily reports about weather conditions and flight paths. These reports usually include statistics and forecasting data that might be helpful for the pilots. This is used to improve the efficiency of a flight by reducing the risk of delays.
Give Pilots Up-to-Date Directions
Air traffic controllers must also regularly provide updated instructions to pilots. Sometimes, the ATC will be aware of a change that the pilot can't see but that will affect the flight pattern. That's why it is so important for the ATC to stay in regular communication. Air traffic controllers can then authorize flight path changes when they're necessary.
Air Traffic Controller Certification
There is only one certification that permits an air traffic controller to work professionally on an unsupervised basis. To find out more about this FAA certification, see below.
The FAA certification is required if you want to become an air traffic controller. After you complete your trade school program, you will proceed to your on-the-job training program at the FAA in Oklahoma.
That program takes between two and four years to complete. Once you have finished the training program, you will be eligible for your FAA certification.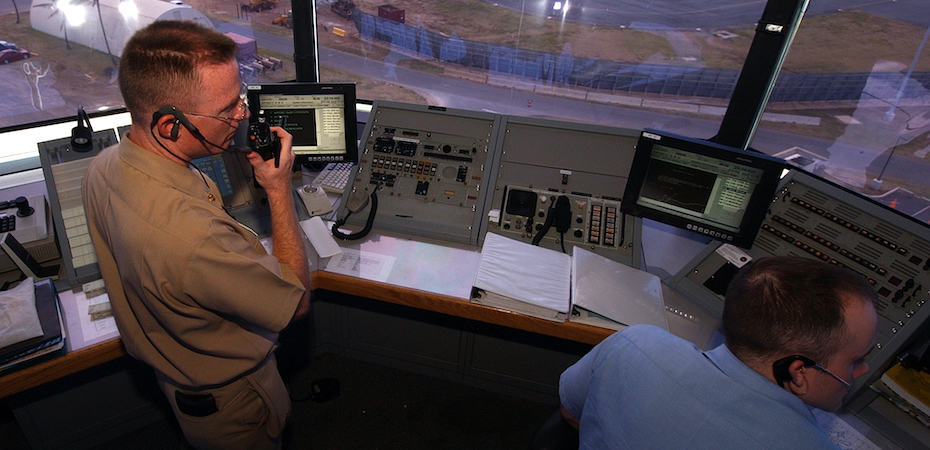 How to Prepare for Your Air Traffic Controller Job Interview
To ace your interview, you should spend time preparing your answers. It is always a good idea to go back to the beginning and review the basic principles of air traffic control.
Below are some of the questions that you might be asked in your FAA certification interview.
Air Traffic Controller Job Interview Practice Questions
What has been your biggest challenge so far in your experience with air traffic control?
How did you overcome that challenge?
Are you comfortable working under pressure?
Can you give an example of your strong communication skills?
Why do you want to become an air traffic controller?
How Long Does It Take to Become an Air Traffic Controller?
There are three main parts to becoming an air traffic controller. You must get a degree, attend the FAA Academy program, and participate in FAA on-the-job training.
If you choose to get a bachelor's degree, the whole process will take you about eight-and-a-half years. If you get an associate degree, it will be about two years shorter.
Should You Become an Air Traffic Controller in 2021?
Like any rewarding career, air traffic control has a long training process that requires a lot of dedication. However, once you become a certified ATC, you will have a stable career that will bring in a high salary and good job benefits.
Keep in mind that the demand for new ATCs is expected to increase by only one percent by 2029, which is much lower than the average profession in the US. This means the competition for jobs in this field will be very high. To stand out, you need to put forth your best effort.
Air Traffic Controller FAQ
What do air traffic controllers use to monitor airplanes?
To oversee the movement of aircraft, ATCs use tools such as radars and special computer software. They are generally working with several pilots at once, so they must be able to efficiently monitor multiple flight paths simultaneously to provide accurate information.
Is air traffic control a stressful profession?
Since you'll be dealing with other people's lives, this job requires a lot of concentration. Many people would consider that to be a stressful situation. However, once you have several years of experience under your belt, it will be easier for you to perform your daily activities.
How many hours per week do air traffic controllers work?
ATCs work anywhere from 30 to 40 hours per week. However, their schedule is distributed throughout different shifts because air traffic control requires 24-hour monitoring.
Do air traffic controllers get to fly for free?
There's a program called Flight Deck Training that provides air traffic controllers with two free trips during the year. During these trips, however, the ATC will be traveling in the cockpit jumpseat, not in the cabin.