The Highest-Paying Business
Intelligence Careers of 2021
Every business needs to implement at least some form of business intelligence (BI). Gathering data is a great way to gauge how a business is performing. Business intelligence can help spot trends, find areas of improvement, and make smarter decisions.
In a competitive world, business intelligence sets the best companies apart from the rest. These careers are some of the most lucrative out there. Read below to learn more about the highest-paying and best business intelligence careers of 2021.
What Is Business Intelligence?
Business intelligence is the process of extracting and analyzing data to make better business decisions. This data can help create better strategic, tactical, and operational insights. Business intelligence careers include research analysts, cost estimators, management analysts, and more.
Why You Should Pursue a Career in Business Intelligence
You should pursue a career in business intelligence because most of these jobs are growing at a faster-than-average rate. For example, the number of operations research analysts is expected to rise by 25 percent by 2029, according to the Bureau of Labor Statistics (BLS). Market research analyst jobs, meanwhile, are projected to increase by 18 percent.
Not all business intelligence jobs have the same rosy outlook. However, it is worth noting that there are multiple options for people with business intelligence skills. All of the business intelligence careers surveyed in this article earn a higher average salary than the national average, which is $56,310.
Top 10 Business Intelligence Careers at a Glance
Business intelligence covers a broad range of jobs. Read below to learn more about the best business intelligence careers of 2021. All the information below was sourced from the Bureau of Labor Statistics and PayScale. The projected job growth statistics refer to growth between 2019 and 2029.
| Job Title | Education Requirement | Projected Job Growth | Median Pay |
| --- | --- | --- | --- |
| Digital Marketing Manager | Bachelor's Degree | 6% | $141,490 |
| Business Intelligence Developer | Bachelor's Degree | 22% | $110,140 |
| Statistical Analyst | Bachelor's Degree | 33% | $93,290 |
| Management Analyst | Bachelor's Degree | 11% | $87,660 |
| Operations Research Analyst | Bachelor's Degree | 25% | $86,200 |
| Financial Analyst | Bachelor's Degree | 5% | $83,660 |
| Budget Analyst | Bachelor's Degree | 3% | $78,970 |
| Cost Estimator | Bachelor's Degree | -1% | $66,610 |
| Market Research Analyst | Bachelor's Degree | 18%* | $65,810 |
| Brand Analyst | Bachelor's Degree | 18%* | $58,312 |
*Projected job growth is based on Bureau of Labor Statistics data for Market Research Analysts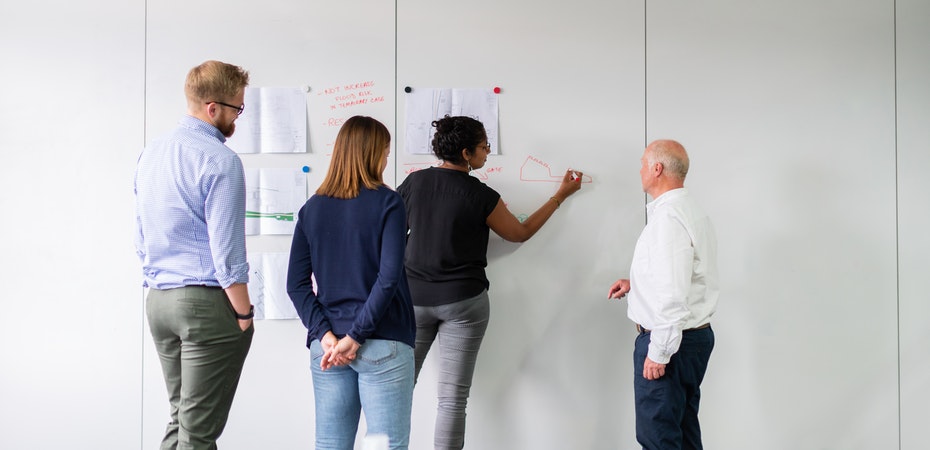 The Best Business Intelligence Careers in 2021
Most of the jobs associated with this line of work center around a core set of business principles. Business intelligence involves understanding how a business is run, establishing weaknesses, and then developing systems to produce better outcomes.
Some of the jobs listed below require more specialized knowledge than others. Read on to decide which of these careers is best for you.
Digital Marketing Manager
Digital marketing managers lead the marketing team in collecting data and creating better digital campaigns. You should have a working knowledge of Microsoft Excel, Google Analytics, and Google AdWords. If you're interested in both leadership and project management, this senior business position could be a great career choice for you.
Digital Marketing Manager Responsibilities
Leads a marketing team and delegates tasks accordingly
Converts raw data into useable information
Drafts regular reports on digital marketing tactics
Monitors trends and changes to make better marketing decisions
Business Intelligence Developer
Similar to an IT manager, this BI developer job is geared towards developing information technology solutions within a company. While you should pursue a Bachelor's Degree in Business, Finance, or a related field, a working knowledge of IT will also help you in this job. It is also common for software developers to transition into this role later in their careers.
Business Intelligence Developer Responsibilities
Drafts physical data models
Performs dimensional analysis and database management
Creates tools that aggregate results and provide information
Creates business intelligence reports
This data professional calculates the average value and standard deviations within a company setup. This line of work is in the same field as mathematicians and statisticians, so you should have strong math skills to become a statistical analyst. If you enjoy working with numbers, this might be the business intelligence career for you.
Statistical Analyst Responsibilities
Uses algorithms and data warehouses to analyze company data
Contributes to quality control within a company structure
Drafts recommendations to offer guidance and strategy to company leaders
Conducts regular reporting on data analysis
To become a management BI analyst, you should try for a Bachelor's Degree in Business Administration or Finance. You should have a firm grasp of the inner workings of a business. Some hands-on experience will set you apart from other candidates for this job. Try to get an internship or entry-level job before pursuing this career.
Management Analyst Responsibilities
Drafts new forms and procedures for workers to follow
Creates new manuals to help management operate the business more efficiently
Studies and evaluates the performance of an organization
Discovers new ways to simplify work processes
Operations Research Analyst
Operations research analysis is a very general position. The job description involves critical thinking and a decent knowledge of IT. You can get a bachelor's degree in a few different topics to become an operations research analyst, including business, finance, and statistics. You can also get a master's degree if you want to earn a higher salary.
Operations Research Analyst Responsibilities
Maximizes the efficiency of a company's operations
Conducts statistical and quantitative analysis for a company
Evaluates and analyzes business processes
Drafts and implements new ways to optimize operations
This form of business intelligence requires strong knowledge of numbers, databases, and financial analysis. Most financial analysts have a Bachelor's Degree in Finance. In this position, you will look at a business's financial reports and use that information to inform budgets, investment decisions, and more.
Financial Analyst Responsibilities
Becomes familiar with the financial resources of a company
Makes financial decisions with BI tools
Drafts reports and recommendations to help executives make decisions
Makes sure that a company's wealth is protected in the short and long term
The development of a company budget can be a complicated process. Many companies use budget analysts to look at data and decide the best course of action for old and new budgets. A Bachelor's Degree in Finance or Business is the best degree to help you get this job.
Budget Analyst Responsibilities
Develops quantitative measures to determine the success of budget goals
Gives input on future budget decisions
Communicates with executives about financial aspects of the company
Produces weekly, monthly, and quarterly financial reports for executives
This is another business intelligence job associated with a company's finances. You will need a strong background in bookkeeping, accounting, or auditing. The cost estimator is the person who predicts production costs through analysis of labor inputs, product materials, and time constraints. In this position, you can also help create budgets.
Cost Estimator Responsibilities
Produces cost estimates for projects after analyzing aspects of production
Finds ways to reduce production costs
Establishes which staffing, machinery, and other resources are required to streamline the production process
Drafts and implements changes to the production line when necessary
This is an area of business intelligence that does not require you to have a technical or financial background. However, you are expected to have a firm handle on human behavior and marketing trends. To enhance your prospects, you should complete a Bachelor's Degree in Marketing or Business.
Market Research Analyst Responsibilities
Researches consumer behavior for the company's target audience
Establishes trends in the market to inform future decisions
Analyzes data compiled from market research
Discovers ways to ensure profitability
Brand analysts do not need a technical background. They are business intelligence experts who conduct market research and develop marketing strategies built on their findings. A marketing or business qualification should be sufficient for anybody pursuing this line of work. You should be good at researching market and branding trends.
Brand Analyst Responsibilities
Conducts analysis on sales, marketing, and business supply chains
Drafts and implements sales strategies to minimize costs and increase profits
Develops a firm grasp of the industry
Submits regular product reports to company management
What Education Is Required for a Career in Business Intelligence?
For a career in business intelligence, you should have a Bachelor's Degree in Business, Finance, or a similar topic. Your specialization can depend on your career choice. However, you should have general knowledge about how a business works and how to analyze information to make decisions.
For data analysis positions, you should have a working knowledge of IT, and in some cases have a decent grasp of algorithms. To that end, a Bachelor's Degree in Computer Science will work to your advantage. If you want to work in a budgeting position, you should try to get a Bachelor's Degree in Accounting.
Most business intelligence careers require a bachelor's degree. However, you can get an associate degree or attend a coding bootcamp in some cases. If you have strong experience in the field, a company may hire you as a BI professional based on that alone.
Can I Study Business Intelligence Online?
Yes, you can study business intelligence online. Online colleges are more credible than ever, and even prestigious universities offer online business degrees that can help you gain business intelligence skills.
If you need software or coding skills, you can also find individual courses to help you learn. It is not the same as a degree, but an online course can help you specialize.
Personality Traits Necessary for a Business Intelligence Career
Anybody working in business intelligence will have a lot of interaction with management and executives. You need confidence and communication skills to articulate your findings. Even though you will work independently most of the time, communication is a large part of the job.
Working in business intelligence also means consuming a considerable amount of data. Beyond an eye for detail, you need mental stamina and a sound work ethic. You should be patient because the research you conduct will have meaningful consequences for your company.
Is a Business Intelligence Job Good for Me?
Yes, business intelligence is a good job for you. Every company needs business intelligence workers to grow and make better decisions. Working in a business intelligence analyst job offers security and decent pay, depending on the career path that you take. If you are fascinated by analytics and the world of business, this career is the right one for you.