Why You Should Attend
University Over College
If you want to pursue higher education, you have a few options to consider. Although universities and colleges are both institutions of higher learning, they accommodate different students and offer different degree programs.
Similar areas of study are available at both universities and colleges. You can study for various careers, from nursing to web design. If you want to learn more about the difference between university and college, or if you need help choosing a school, read below to learn more.
An Overview of Universities
Universities offer undergraduate and graduate degree programs. At a university, you can earn bachelor's, master's, and doctoral degrees. Besides attending on-campus classes, you can complete an online bachelor's degree or many other online programs.
The entry requirements and tuition fees differ for each university and program. For example, a Bachelor of Fine Arts could be fairly affordable at one university and ludicrously expensive at another. This applies to any degree program.
Before enrolling, you should feel confident about your school and program choice. It's also important to make sure the university has accreditation. Without accreditation, you might not be able to get a higher degree or transfer credits later on. You should avoid wasting your time and money on a degree that isn't recognized.
Some colleges and universities accommodate online students. Many also offer financial aid in the form of scholarships and student loans. University is notoriously expensive, but you can find many resources to help you along the way.
Read below to learn some key facts about universities across the country.
What Is the Difference Between College and University?
There are some differences between colleges and universities, although they have many similarities.
Compared to universities, colleges are smaller facilities. Colleges sometimes focus on specialized undergraduate programs in fewer study areas. Universities are larger facilities with a broader range of graduate and undergraduate degrees.
A university is a learning facility dedicated to research and higher education. You can earn a degree in various academic disciplines. These include undergraduate bachelor's degrees and graduate degrees like master's degrees and PhDs.
Universities focus on intricate, professional training that sometimes includes hands-on experience. Most of these learning institutions have facilities like labs and libraries. At a university, you can often access workshops and alumni associations to help you network with others in your field.
Colleges Within Universities
Sometimes, universities divide programs into subsections of different colleges. For example, to study business at Arizona State University, you have to apply through their business college, the W. P. Carey School of Business. Although it is a part of Arizona State University, it has its own research facility, student services, and community.
Universities often do this for specialized programs and departments. You can find colleges for broader topics like business, health, or computer science.
Colleges are higher education facilities that can either be independent institutions or schools within a university. Depending on the college, it can grant degrees, offer vocational classes, or both.
Students attending a college can expect to earn a diploma, certificate, or associate degree. You have the choice between a community college, vocational school, or a liberal arts college based on your interests.
Programs at on-campus or online colleges are typically shorter than those from universities. However, college is a great place to start if you have no academic or professional experience. Colleges can also be less expensive than universities.
These colleges focus on liberal arts undergraduate degrees. The class sizes are smaller, and the programs include humanities, arts, social sciences, and natural sciences. Liberal arts colleges cover ideas instead of hands-on education. These colleges aim to create critical thinkers who are knowledgeable about the world around them.
The purpose of a community college is to serve local students. Community colleges equip students with the essential skills to prepare them for university. You can study almost any subject at a community college. This choice is ideal for students who want more training before proceeding to a four-year degree.
Technical and Vocational Colleges
These colleges, also known as trade schools, can help you gain hands-on experience in a wide variety of fields. They can offer informal learning or formal learning, depending on the school.
In a technical or vocational college, you will participate in more practical than theoretical training. The point of these colleges is to provide students with job-ready skills for a specific career.
College vs University at a Glance
Both educational institutions have unique advantages for diverse academic goals. Choosing either college or university isn't a straightforward decision. The table below compares the primary differences between colleges and universities.
The student community is usually smaller.
It offers undergraduate degrees or technical diplomas.
The program length ranges between six months to three years.
The tuition and fees are more affordable.
It does not offer extensive career services.
The focus of programs is mainly on providing job-specific skills.
The student community is much larger.
It offers both undergraduate and graduate degrees.
Some programs can take up to six years to complete.
The tuition and fees are usually expensive.
It offers career placement opportunities, resume building assistance, and more career help.
There are extensive programs and topics to choose from, including both hands-on and theoretical options.
Why Choose Higher Education?
You should choose higher education if you want to get a high-paying job in a specific industry. You can have access to many academic and professional opportunities. While some people question whether universities adequately prepare students for the workforce, you can usually get a more senior role with a higher degree.
Universities also offer on-campus gyms, community events, skill-building seminars, and internship opportunities. Most schools also have resources to help you transition from high school to the real world.
Below are the top reasons to choose higher education for your studies in 2021.
The intensive program content can help you become an expert in your field. You'll be able to advance your career or progress into another related field.
Most schools include internships or hands-on projects. These projects provide work experience or portfolio items to help you demonstrate your skills and get a job.
You can build professional connections with mentors, students, and industry professionals. These connections can help you secure jobs and other professional opportunities.
Earning a university degree can allow you to work in different locations and environments.
Many universities offer student exchange programs that can help you learn while traveling the world.
Universities receive accreditation from accrediting agencies. These private organizations make sure academic institutions meet the required levels of education quality. Accrediting agencies can accredit schools at a national or regional level.
Most US learning institutes hold regional accreditation. Regional accreditations are more prestigious because they have stricter entry requirements. Becoming accredited is voluntary, and the process takes between one and two years. Schools have to work to keep their accreditation.
There are six major regional accrediting agencies in the US. These include the Commission on Institution of Higher Education (CIHE), Higher Learning Commission (HLC), and Middle States Commission on Higher Education (MSCHE).
There are also the Northwest Commission Colleges and Universities (NWCCU), Southern Association of Colleges and Schools Commission on Colleges (SACSCOC), and WASC Senior College and University Commission (WSCUC).
Besides regional and national accreditations, schools can also have specialized accreditations. This is when a private body that specializes in a subject accredits a program in that subject. For instance, a private music organization can accredit a school for its music programs.
The Council for Higher Education Accreditation (CHEA) is an advocate for higher education quality and accreditation. Founded in 1996, it has both national and international accrediting and education quality assurance authority. Twenty respected public members, college and university presidents, and institutional representatives govern the CHEA.
The Role of the Department of Education
The Department of Education (DOE) develops policies for, administers, and assists education in the US. The DOE collects data on learning facilities and enforces educational laws. The DOE doesn't establish learning institutions or accredit them, but it recognizes the six accrediting agencies.
Types of Colleges and Universities
Universities and colleges can be either privately owned or public facilities. These facilities can also be non-profit or for-profit. Each type of school has different advantages and disadvantages.
Private vs Public Colleges
Public learning institutes are funded by the government. Private institutions receive funding from endowments and other private channels. A public institute is much larger and comprises more students than a private school.
However, public institutions can be a bit more competitive to get into. These schools usually have to reserve some of their openings for in-state students. Private institutions can be more expensive but offer more activities. It's common for these schools to have more international and out-of-state students.
For-Profit vs Non-Profit Colleges
Most universities are for-profit. These facilities send a notable amount of revenue to investors or use it for marketing. For-profit schools have to make a healthy return on investment to keep their doors open, which means higher tuition fees.
For-profit schools are more like businesses. This results in fewer after-school activities or recreation centers. Non-profit learning facilities reinvest their revenue into their institute. This includes faculty salaries, learning resources, or better learning materials. A non-profit school usually provides more athletic opportunities and community activities.
At a university, you can apply for a variety of different degree programs. This depends on your academic level and work experience. Read below to explore the degree programs offered at universities.
This degree program is ideal for students who want to start with a shorter or less expensive education. An associate degree will help you develop the fundamental skills you need to get a bachelor's degree. You can get this kind of degree at a community college.
It takes two years to earn an associate degree, and the tuition varies by your school and location. With an associate degree, you could become anything from a web developer to an electrical engineering technician.
Some students go straight for a bachelor's degree program after high school. This degree usually takes four years to complete, but this relies on your area of study. Most entry-level jobs require at least a bachelor's degree.
A four-year degree costs an average of $28,775 per year, according to the National Center for Education Statistics. This includes tuition, living expenses, and other fees. With a bachelor's degree, you can pursue many different career options. For example, you can study to become a network engineer, nurse, graphic designer, and more.
This graduate degree is not compulsory for most jobs, but it puts you ahead of your competition. To get a master's degree, you usually need a bachelor's degree first. Some people get a bachelor's degree and work for a few years before they decide to get a master's.
With a master's degree, you can apply for senior positions in your field of choice. To study for your master's degree at a private university, prepare to pay around $25,929 per year according to the NCES. At a public university, the costs fall to $12,171 annually.
A doctorate is the highest-ranked academic degree for most fields of study. This program focuses on research, data analysis, and theory. A PhD can take anywhere from four to ten years. It all varies based on your schedule, topic, and experience.
You can complete a PhD program after your master's degree. The costs for the PhD program are roughly the same as a master's, so you should financially plan if you want to get this degree. You can apply for study and research grants to help you along the way.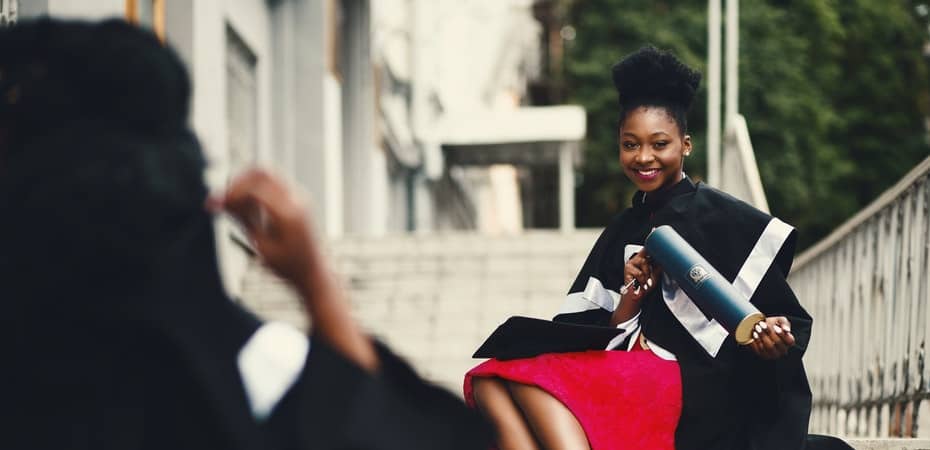 How to Choose the Right University
When choosing a university, you need to consider several critical factors. These factors include student housing, course content, university rankings, and other resources.
Attending university right after high school often involves moving away from home for the first time. Your chosen school should have comfortable, clean student housing to help you transition. You want your new home to feel like a community and improve your overall well-being.
Make sure the university offers everything you want to study. Before you apply, you should determine what you want to study and find a university that offers that. If you're unsure what path you want to take, you can enroll in a more general degree and specialize later on. Some schools also offer foundation year programs.
You want to study at a reputable university with a positive environment and recognized degrees. Check the school's rankings for education quality, graduate success, and overall services. It can be a good indicator of how your experience will be.
Recreation Centers and Activities
Access to facilities like libraries, gyms, and entertainment areas can help you have a good university experience. This is especially the case for on-campus students. Extra facilities can make going to university a more enjoyable experience. They can also help you meet people and develop skills in non-academic areas.
The application process for most degrees is similar. Many universities allow you to complete your application online. Depending on the school, you might have to provide your academic records, recommendation letters, a personal essay, a resume, or all of the above.
Some universities may require you to complete a standardized test or a video essay. In most cases, international students must prove their English proficiency. Before you apply, you should have a high school diploma or equivalent certificate. Some programs also ask that you take certain classes in high school.
For graduate degrees, you need a related bachelor's degree and a resume showcasing strong work experience. You should also get a letter of reference from a professor or colleague.
According to the NCES, the most common majors in 2016 were business administration, health, psychology, and engineering. However, you should focus on the topic that interests you most. Without passion, it might be difficult to complete your degree and get a job in the field.
Read below to learn more about the factors you should consider when choosing a major.
You should avoid choosing a major that does not showcase your skills. Before you enroll, you should have some understanding of what the topic entails. You don't want to begin classes and realize that the program does not match your skill level. Eliminate majors that require skills that you don't have.
You should make sure your major aligns with your interests and career goals. Choosing a major that interests you can prevent you from breaking your academic commitment or changing your major. This can help you save time and money throughout your academic career.
Fifteen years from now, will your career still make you happy, and will your degree still be valuable? If you're uncertain about this, choose a broader or more general major. This will give you more freedom in the areas you want to specialize in.
You should check the Bureau of Labor and Statistics to make sure your chosen topic has a good job outlook. You will want to be able to find a job five, 10, or 20 years from now. Everything is becoming digital, so you should make sure that your profession will stay relevant in years to come.
Core Courses, Electives, and Credits
Universities use an academic credit system to evaluate your work during your degree program. To graduate, you will need to accumulate a certain number of credits based on the school and the degree. For each course you take, you will get a certain number of credits.
You can get credits from your core courses or electives. Core courses are a set number of courses students must complete to earn their degree. Electives are a range of additional courses that students can take to complete their degree. The number of credits, core courses, and electives varies between universities.
How Much Does University Cost?
University can cost anywhere from zero dollars to a hundred thousand. This depends on your scholarship opportunities, financial aid, and compounded loan interest.
Many students have the expertise but not the finances for university. Most schools offer financial aid to help ease the load. Let's examine how each of these options can work for you.
If you don't want to deal with debt, a scholarship or grant is a great choice. This is because you don't have to pay them back at the end of your studies. Scholarships are based on needs, merit, or talent. Grants are need-based, so if you don't have strong finances, you can apply for a grant.
Typically, private organizations offer scholarships, and charitable organizations offer grants. You should check with your school to see if it offers scholarships or grants that are specific to your major or situation.
Students can choose between federal student loans or private student loans. It's best to start with federal student loans because they have lower interest rates and better repayment plans. Before accepting any student loans, make sure the loan provider is reputable and certified.
Online University Education
If you can't attend on-campus classes, many universities offer accredited online degree programs. Studying for an online degree can be just as fulfilling as attending an on-campus program. You can learn at your own pace with a flexible schedule. Most online programs also have lower fees.
Online programs usually offer the same degree as an on-campus program. You can complete your associate, bachelor's, master's, or doctoral degree online. However, some majors require on-campus attendance or offer hybrid learning.
Attending a university is likely to be a great choice. It is ideal for any student who needs high-quality, specialized education. Enrolling in a degree program allows you to gain a sturdy entry into your desired industry.
There are thousands of degree programs in the US to choose from. You should do thorough research about the university and program you want to join. You can also consider an online program if that suits you better. Either way, you should apply for a university program in 2021.