The Best Apps for Rentals to Check Out in 2022
Finding a new apartment or house to rent can be daunting. You have to go through the process of finding a property that suits your needs and do some financial planning to make sure you can afford it. A lot of house-hunting and rentals are now done through apps instead of real estate agents. This article lists the best apps for rentals, where you can use search features in the apps to view various rental options. 
Apps for rentals make house-hunting easy by providing quality listings of apartments, houses, homes, and condos in various cities across the country. The best free rental apps and apartment search sites let potential tenants see property details and get into instant contact with landlords and find apartment deals.
What Is an App for Rentals?
An app for rentals is an application that provides property listings for rent and sale in various cities. It typically includes the house address, photos, price range, building plan, and other important information on the property. They also have the option to contact landlords directly or find a realtor who can help renters with the application process and rental process. There are even vacation rental apps you can use when you're planning your next trip away from home.
Why Do People Use Apps for Rentals?
When looking for an apartment, people use rental apps to give them as many options as possible. These apps have a large database of apartment complexes, houses, condos, and townhouses for sale and rent in various cities. They help ease the burden of house-hunting by allowing you to complete the entire process online, including payment.
How the Best Apps for Rentals Can Help You Find a Good Apartment
There are various ways that rental apps can help you find a good apartment. Rental apps usually have a good user interface with an extensive library, access to a property manager, and helpful information on each property. This allows apartment hunters to easily look through rental options that meet their criteria.
Apartment Listings in Various Cities
The best rental apps have various listings in multiple cities. With many options, you can find an apartment that suits your needs and is in an ideal location. You also have the option to select your price range and other preferences, which will help to narrow down the options and bring you closer to viable rental options.
Access to a Realtor or Real Estate Agent
Most apps allow anyone to make a property post, so long as it's legitimate. This means you can deal directly with the property owner. Although it may seem like these apps can make real estate agents obsolete, the truth is that the user can benefit immensely from contact with real estate professionals, and many rental apps facilitate that connection. These rental apps can give you access to realtors and property management firms, who can work through the entire process with you, making the apartment-hunting process easier.
Images, Building Plans, or Maps
Having a clear picture of the apartment you are about to rent can help you make your decision before payment. The best rental apps include photos of the apartment or house and images of the building plan and map listings. This information is essential information when deciding if an apartment is right for you.
The 10 Best Apps for Rentals: Overview
| App | Availability | Notable Features | Cost |
| --- | --- | --- | --- |
| Apartments.com | iOS, Android | Apartments for rent, rental manager tools, map search | $29, 2.75% fee |
| Apartment Finder | iOS, Android | Apartment listings across the country, full video tours, map-based pricing | Free |
| Homesnap | iOS, Android | Find an agent, in-app messaging, new rental listing alerts | Free |
| HotPads | iOS, Android | Notifications, send applications, list of favorite properties | $29 |
| RadPad | iOS, Android | House pictures, up-to-date rent specials | Free |
| Realtor.com | iOS, Android | Find realtors, manage rentals, screen tenants | Free |
| RENTCafe | iOS, Android | Daily pricing and availability update, verified listings | Free |
| Trulia Rentals | iOS, Android | Rent a home, see neighborhoods, identify neighborhood features | Free |
| Zillow Rentals | iOS, Android | Buy, rent, or sell homes, manage rentals, agent finder | $4.99 – $29.99 |
| Zumper | iOS, Android | Real-time notifications, one application form, apartments in various cities | $0 – $30 |
The Best Apps for Rentals to Make Your Life Easier
Below is a brief description of the best rental apps to make your life easier. These applications have features that can ease your house search and give you a stress-free application and payment process. For a small fee, you will have millions of apartment options to choose from.
Apartments.com | $29, 2.75% fee
Best Feature of Paid Version: Pay rent through the app
Biggest Downside of Paid Version: Credit card transaction fee
Apartments.com is an online property portal that allows apartment renters or property buyers to browse through various apartment listings, apply online, sign the lease, and pay the rent through the app. Property managers can post their apartments, houses, condos, and townhouses on the app and connect with millions of interested renters.
Both property managers and renters can use the platform for free. However, renters will have to pay a fee of $29 when applying through the platform to submit their applications. When paying the rent through the platform using a debit or credit card, a fee of almost three percent is charged.
HotPads | $29
Best Feature of Paid Version: Site map
Biggest Downside of Paid Version: Monthly application fee
HotPads is an online map-based apartment rental app with millions of apartments and housing listings from affordable houses to luxury listings. It is available for anyone interested in renting property across the country and lists the apartment price, number of rooms, address, and pictures. Renters pay a fee of $29 to apply for an unlimited number of rentals every 30 days.
Zillow Rentals | $4.99 – $29.99
Best Feature of Paid Version: Information on rent availability
Biggest Downside of Paid Version: Listing costs
Zillow Rentals is an online marketplace for the sale and rental of apartments and houses. The platform also has home loan features that help people calculate mortgages, see mortgage rates, and get pre-approved to buy a new home. Zillow listings are free for first postings but require a flat fee of $4.99 to $29.99, depending on your payment plan and preferred location.
Zumper | $0 – $30
Zumper is a popular property search portal used to find houses, apartments, and condos for rent. Renters can browse through millions of apartments on the app for free, and property managers or owners can post property listings on the platform. The rental guide that Zumper offers is especially helpful.
Property owners or real estate agents are limited to posting five units for free and additional postings will incur extra charges. Renters' applications are free, but they will be required to pay a fee of $30 when sending screening reports to a landlord or agent.
The Best Free Apps for Rentals
Most of the best rental apps are free to use for property owners, managers, renters, or buyers. Below is a brief description of the best free rental apps and what they have to offer. You will find relevant information to help you decide on the best apps to use for your apartment search process.
Apartment Finder
Best Feature: Many apartment listings
Biggest Downside: Difficulty choosing from various options
Apartment Finder is a real estate app used to search for apartments across the country. It is one of the best apartment search platforms and includes great deals and millions of listings. It provides accurate information on apartment availability and pricing and includes listings on condos, houses, and townhouses.
Homesnap
Best Feature: Favorite properties
Biggest Downside: Lack of full coverage
Homesnap is a search portal for real estate where people can find houses for sale and properties for rent. It is used by both renters and real estate agents to post listings and find properties. Homesnap allows renters to connect with agents who know the most about the home you're interested in. There is a pro version of the app for real estate professionals.
RadPad
Best Feature: Pictures of apartments
Biggest Downside: Limited to just Texas
RadPad is a Texas-based property search portal app. It allows you to find available apartment listings in Dallas and Houston for free. It includes real-time pricing, availability, and up-to-date rent specials. You will be connected with an agent who will curate the best apartment options for you and help you through the application process right up until you move in.
Realtor.com
Best Feature: Mortgage and refinance calculator
Biggest Downside: High competition
Realtor.com is an apartment search app with apartment and house listings for rent and sale. You can find realtors or real estate agents on the platform to help you with the application process. You can search for the best rental option for apartments, condos, and homes near you, search for the apartment value, and get pre-approved for a home loan if you decide to buy.
RENTCafe
Best Feature: Virtual tours
Biggest Downside: Slow customer service response time
RENTCafe is an apartment listing service with various apartment listings directly from property managers to help renters find available and safe apartments in their location of choice. It includes property details like prices, photo displays, floor plans, and amenities. You can contact the property owners, submit rental applications, and receive approval notifications through the app.
Trulia Rentals
Best Feature: Useful neighborhood insights
Biggest Downside: Possibility of fraudulent listings
Trulia Rentals is a property management app with various homes and apartments for rent across the US. It includes map listings and local insights to help you choose. It can help you find homes with different specifications like a swimming pool or a particular pet policy. With the local insights, you can find information on the neighborhood, including nearby schools and transit.
The only downside to this app is that anyone can post a listing. This means that someone could take pictures they found somewhere else on the Internet and make a fake listing on Trulia Rentals.
Which of the Best Apps for Rentals Should I Choose?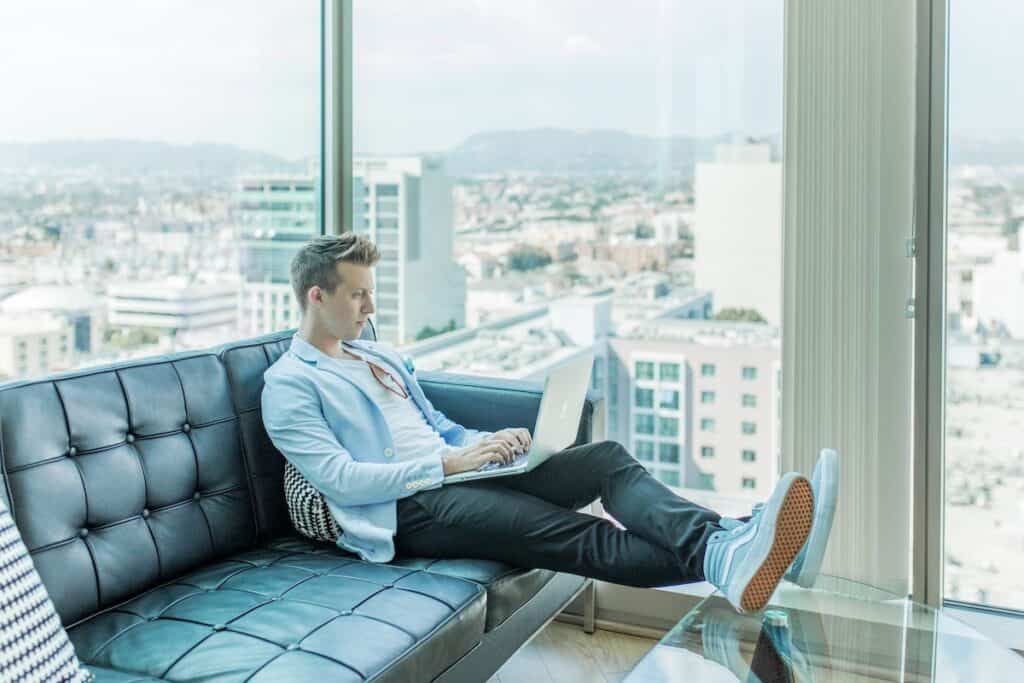 The best rental app to choose should be one that offers many rental property options in cities and neighborhoods of your choice. It should provide pictures, maps, building plans for the apartments, and other helpful information that you need during your decision-making process.
If necessary, you can also go for an app that provides a realtor. This can support you during the process. Unless you want to become a realtor yourself, this is an especially useful feature. Some apps also have a feature to complete the payment online using your debit or credit card. 
Best Apps for Rentals FAQ
Which app is best for rentals?
The best apps for rentals are Apartment Finder, Apartments.com, Hotpads, RadPad, Homesnap, and Realtor.com. These apps provide various apartments in multiple cities and in different price ranges.


What is the best website to find rental apartments in 2021?
The best website to find rental apartments in 2021 is Apartments.com and Realtor.com. These websites include detailed information on millions of apartments in cities in the US.


Is Zumper a legit website?
Yes, Zumper is a legit website that can help you find available apartments and houses across the United States at affordable prices. This website often offers good deals as well.


How do you find apartments for rent?
You can find apartments for rent by using rental apps. These apps have apartment listings in various cities and at different prices depending on your needs. Some of them include Realtor.com, RadPad, HotPads, Homesnap, Apartment Finder, RENTCafe, Trulia Rentals, Zillow Rentals, and Zumper.