The Top Podcasts for Stocks to Follow
If you are looking to find financial security and early retirement, then you should listen to the best podcasts for stocks and find a wide range of actionable advice from industry experts. Whether you want to learn about individual stocks or cryptocurrency investing, having the right financial expert advice is crucial for navigating through a volatile stock market.
In this article, we will list the best stocks podcast episodes, alongside the key factors that make a great stocks podcast and descriptions of the top 10 best podcasts for stocks. After reading this article, you'll be able to listen to financial podcasts and stock market news and make financially sound investment decisions.
Why You Should Listen to Stocks Podcasts
If you are new to investment, the stock market, cryptocurrencies, or hedge funds and want to become financially literate, then you should listen to stocks podcasts. According to a 1999 to 2020 stocks investment survey by Statista, 55 percent of American adults invested in stocks in 2020.
Investing in stocks provides you with the opportunity to increase your personal capital and become financially secure, and stocks podcasts pose as a great guide for financial advice. Listening to stocks podcasts is also useful for business professionals who wish to stay up to date on financial news stories and stock market news.
Keeping up with the latest financial market conditions is also a key skill required to become a successful stockbroker. A weekly podcast with credible advice on investment strategies and financial planning will help you find the right stock options and ultimately help you attain financial freedom.
What Makes a Great Stocks Podcast?
It has updated information. Successfully trading stocks requires you to be vigilant and up to date on financial news and market share updates. A great and credible stocks podcast must be factual and offer the latest financial investment information. Podcasts should also reference the best finance companies in 2022 to further help their audience's investment decisions.
It's educational. A stocks podcast provides finance and investment literacy information to a wide range of audiences, including both novices and experts. A great stocks podcast also incorporates educational elements into reports and discussions meant for finance newbies. 
It's interesting. Audience engagement can either break or make a podcast. To deliver a successful podcast, hosts must provide interesting content with an engaging delivery style. 
It has industry expert guest interviews. Another crucial element for a great podcast is to regularly invite industry experts on as guests. The guest list for investing podcasts might include CEOs, entrepreneurs, financial brokers, investment bankers, stock traders, and investment analysts. 
It's consistent. Consistency is an important factor for a great stocks podcast. Stock market trading requires regular information about financial and business news, and not having a regular podcast with a reliable schedule will drive the audience away. 
The 10 Best Stocks Podcasts
1. The Rich Dad Radio Show with Robert Kiyosaki
Available On: Apple, Spotify, Player FM, Listen Notes, LearnOutLoud
Subjects Covered: Investment opportunities, financial topics, personal development
If you're looking to get expert advice for your personal finances while listening to interesting conversations with industry experts, then The Rich Dad Radio Show is for you. This podcast provides investing and retirement strategy advice. The podcast episodes discuss timeshares, real estate investment, cryptocurrencies, and risk management, among other financial topics.
2. Fast Money with Melissa Lee
Available On: Podchaser, Player FM, Listen Notes, Apple Podcasts, SoundCloud
Subjects Covered: Stock market, actionable news, economics, current market conditions
Fast Money with Melissa Lee is a CNBC podcast that covers finance and stock market-related news. Keeping up with the current stock trading news is essential for making informed investments and this podcast offers great insight. The Fast Money podcast is also a great informative medium for those who want to become a business intelligence analyst or an economist. 
3. The Memo by Howard Marks
Available On: Apple Podcasts, Spotify, Audible, Google Podcasts
Subjects Covered: Business, investment
Howard Marks' podcast is a business discussion and investment advice podcast that features weekly episodes covering relevant market and finance topics. Marks is the co-founder of Oaktree Capital Management and an investor who provides an expert viewpoint through his podcast. The Memo discusses market uncertainty, macroeconomics, financial performance, and stock trading.
4. Millennial Investing – The Investors Podcast with Robert Leonard and Clay Finck
Available On: Apple Podcasts, Listen Notes, Amazon Music
Subjects Covered: Financial literacy, actionable steps, investment analysis
Millennial Investing is a podcast that discusses financial literacy and stock investing advice, catered towards millennials. This podcast offers practical financial advice on how to use regular and accessible avenues as investment opportunities. Its hosts, Leonard and Finck, interview industry experts regarding investing in Airbnb, commodities, Bitcoin, and rental units.
5. BiggerPockets Money Show
Available On: Apple Podcasts, Spotify, YouTube, Overcast, Castbox, Google Podcasts, Stitcher
Subjects Covered: Financial education, actionable advice, investment
BiggerPockets Money Show is a business, finance, economics, and stocks podcast that is apt for a wide range of audiences. Podcast topics include pensions, student loans, real estate investment, rentals, passive income, and finance scaling. The show features business experts like investors, CEOs, entrepreneurs, and stockbrokers. This podcast is an engaging and educational business discussion.
6. Money for the Rest of Us with J. David Stein
Available On: Apple Podcasts, iHeartRadio, Amazon Music, Spotify, RSS, TuneIn, Stitcher
Subjects Covered: Personal finance, investment
Money for the Rest of Us is another personal finance and investment advice podcast that discusses the latest market trends, business technologies, and investment opportunities. The performance of the stock market is directly tied with current affairs. This podcast covers current trends and news including the global energy crisis, Metaverse, inflation periods, and hedge fund news.
7. Focused Compounding with Andrew Kuhn and Geoff Gannon
Available On: Apple Podcasts, Player FM, Listen Notes, Anghami, Podcast Addict
Subjects Covered: Investment, stock market, hedge fund, finance new stories
If you want a podcast source to provide industry research and expert advice on current finance and investment opportunities, Focused Compounding is worth looking into. This podcast discusses customer behavior, the NASDAQ selloff, investor capital management, tech stocks opportunities, macro worries, and snap judgments for investors.
8. Mad Money with Jim Cramer
Available On: Apple Podcasts, Spotify, Google Podcasts, Stitcher, TuneIn, iHeartRadio
Subjects Covered: Wall Street news, investment opportunities, money management
Mad Money's host, Jim Cramer, provides the perspective of a Wall Street money manager on stock investment strategies, market trends, and finance opportunities. If you aspire to enter a Wall Street finance profession, then this podcast is for you. Mad Money covers company strategy previews, dividend evaluations, tech stocks, and stock trading.
9. Motley Fool Money with Chris Hill
Available On: Apple Podcasts, Spotify, Amazon Music, Stitcher, iHeartRadio
Subjects Covered: Cryptocurrencies, stock investment, financial topics, personal finance advice
Motley Fool Money with Chris Hill is a flagship podcast that has been offering stock investment and finance advice since 1993. Motley Fool Money reports an overall customer feedback rating of 4.3 out of five stars. This is a great stocks trading advice podcast that integrates the impact of current business news and market trends with the volatility of the stock market performance.
10. Colossus
Available On: SoundCloud, Spotify, Amazon Music, Deezer, Percussion Play
Subjects Covered: Business, investment
The Colossus podcast covers cryptocurrencies, business news, public equity, investment banking, and stock market trends. This is an interview-based podcast that features CEOs, directors, fund managers, high-frequency traders, and portfolio managers as guest speakers. If you're looking to get business and stocks insight from industry professionals, check out Colossus.
The Best Stocks Podcast Episodes to Get You Started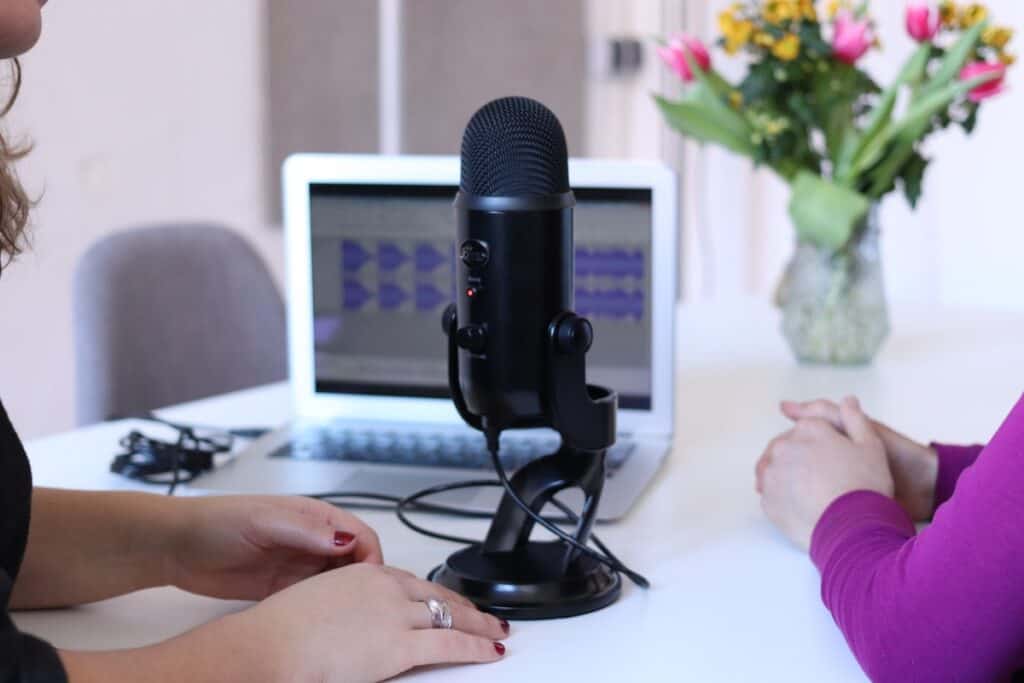 Now that you know the top 10 podcasts for stocks, read below to find the best podcast episodes you can listen to to get started on your stock trading and investment journey.
The impact of government regulations and economic market agendas play a foundational role in determining stock values and market trends. This Fast Money episode with Melissa Lee discusses the impact of President Biden's agendas on consumer stocks and the stock market. The episode covers Biden's press conference, economics statistics, and future outcomes of the presidential agendas.
The threats to national and global economies are derived from the valuation of major stocks and social crises. "The Real Risk in 2022" is a discussion with Robert Kiyosaki, Kim Kiyosaki, and Jim Rickards into the outlook of 2022 global economics. The episode discusses economic hikes, inflation, the housing market, and the consumer economy.
Understanding the stock market is vital to making informed decisions about stock trading and investment options. In this episode, Howard Marks shares his perspective on how the market is volatile, and how to base your investment decisions on the market contrarian attitude.
In a 2020 Statista survey, 18 percent of respondents reported decreased retirement savings due to the COVID-19 pandemic. Planning for retirement is crucial to safeguard one's future. This episode discusses early retirement strategies and provides tips on how to successfully plan for early retirement. Implementing these tips into your financial planning can help you avoid a decrease in your retirement funds.
This Focused Compounding podcast episode is a conversation with capital investing manager, Jeff Gannon. You will get an expert opinion on stock trading, finance management, and investment strategies throughout this episode.
What Is the Best Stocks Podcast?
There are several best stocks podcasts you can listen to to get financial advice, find lucrative investment opportunities, and get insight into current market trends. Some of the top stocks podcasts are Motley Fool Money, BiggerPockets Money Show, and The Rich Dad Radio Show. However, the best stocks podcast will vary, depending on your finance background and interests.
Best Stocks Podcasts FAQ
What topics do stocks podcasts discuss?
Stocks podcasts discuss a wide range of topics covering business management, financial advice, investment opportunities, cryptocurrencies and crypto apps, passive income strategies, market research, and stock market trading news. Some stocks podcasts also invite industry experts to provide their opinions on the latest business technologies and market trends. 


Why should I listen to a stocks podcast?
The reasons to listen to a stocks podcast vary, depending on your personal, professional, and financial background. If you are looking to become financially literate, want to find the best investment opportunities, or are simply curious about the best cryptocurrencies, then listening to a stocks podcast is a great idea. If you are a business professional looking to stay up to date on the current industry news, then a stocks podcast is also worth exploring. 


Where can I listen to stocks podcasts?
There are tons of paid and free streaming platforms that allow you to listen to stocks podcasts including Apple, Google Podcasts, Spotify, Listen Notes, Stitcher, Amazon Music, Overcast, Castbox, iHeartRadio, SoundCloud, and Player FM. You can also stream podcast episodes directly from the host's website.