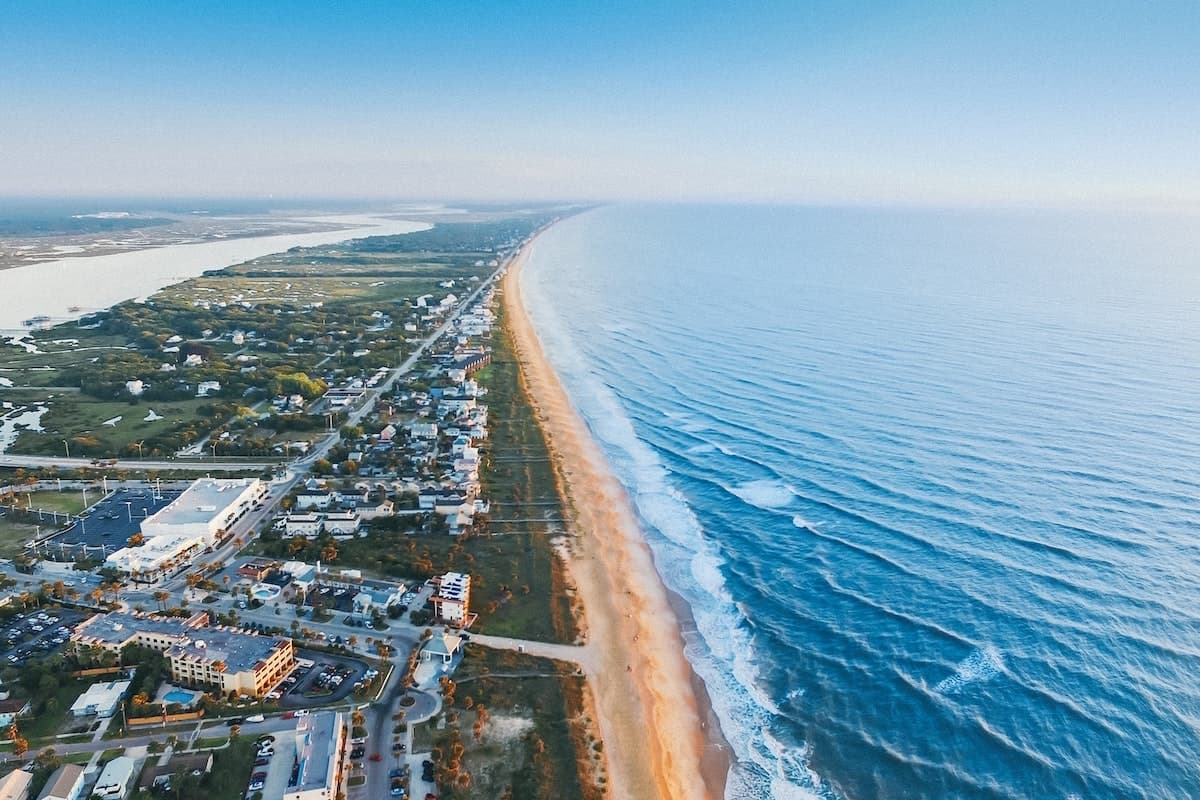 Average Salary in Florida: Can You Afford the Cost of Living in Florida?
The cost of living in Florida is lower than you think. Popularly known as the Sunshine State, Florida is one of the most popular places to live in the United States. The white sand beaches and warm weather attract inhabitants from across the world. Its long coastline with over 825 miles of accessible beaches makes the state an excellent place to visit or relocate.
You could live fairly comfortably in Florida if you're earning above the median salary of $51,908 per year. This amount will help you cover the cost of groceries, the average rent in Florida, the cost of healthcare, and other typical expenses. In this guide, you'll find out what a good salary is, salary comparisons by city, and general living expenses.
What to Know Before Moving to Florida
Florida has a population of over 21 million inhabiting its 71,404 square miles. The state receives over 100 million visitors each year because of its beautiful beaches, sunny weather, and theme parks. Tourism plays a huge role in increasing Florida's gross domestic product. In addition to the positive impact on GDP, Florida tourism activities have also enabled the state to remain without a personal income tax. This makes the state a popular spot and retirement haven for residents of the US.
The biggest cities in Florida are Jacksonville, Miami, Tampa, St. Petersburg, and Orlando. These cities have the highest population, averaging 243,195 people. If you plan to move to Florida, you should familiarize yourself with the state's facts and figures. Below we give you an in-depth cost of living analysis to help you decide whether Florida is the best state for you.
What Is the Cost of Living in Florida?
The cost of living in Florida is $1,832 per person per month, inclusive of rent. Without rent, a livable wage would be $705 per month. The cost of living index considers the price of food, healthcare, transportation, gas, electricity, and other expenses.
According to the Missouri Economic Research and Information Center, the cost of living index in Florida is 104.5. This is an average index compared to 149.9 in Massachusetts and a low index of 84.5 in Mississippi.
How Is Cost of Living Calculated?
The cost of living is calculated based on the Consumer Price Index. This index measures the change in prices of goods and services in an area. It is based on the cost of food, shelter, transportation, health, and other provisions. Often the cost of these goods and services is compared with other metropolitan areas. Keep reading if you'd like an in-depth look at what contributes to the cost of living in Florida.
What Contributes to the Cost of Living in Florida?
Average Rent in Florida
According to PayScale, the median rent in Miami, Florida, is $1,699 per month. The amount of rent you pay depends on the location and size of the house. Some areas in Florida attract a much higher rent price than others. For example, Miami and Orlando have record-high rent costs compared to other counties.
According to RentData, the average monthly rent of a studio apartment is $784. The average rent price of a one-bedroom apartment is $864, and those who need a larger space will pay a typical rent price of $1,038 for a two-bedroom unit.
Many people in Florida require housing assistance. Out of the 259,865 people living in the state, 38,980 people receive a housing allowance from the US Department of Housing and Urban Development. If you cannot afford apartments for rent, you can look into your eligibility before moving to Florida.
Average Transportation Costs in Florida
According to the Internal Revenue Service, the average transportation costs in Florida feature ownership and operating costs. Ownership and operation costs for one car in Miami are $379 per month and $758 for two cars. Public transportation costs are $217 per month. The average gas price is $4.23 per gallon.
Average Food Costs in Florida
The average food costs in Miami, Florida rose 8.9 percent over the last 12 months. According to the United States Department of Agriculture, the lowest-income households spend $4,099 on food, while the annual cost for the highest-income households is $12,245.
Grocery costs in Miami are five percent higher than the national average. A loaf of bread costs $3.51, a gallon of milk is $2.04, and a carton of eggs will cost you $1.91.
Average Healthcare Costs in Florida
The average healthcare costs in Florida are $585 per month and $7,020 per year. This is eight percent higher than the national average.
PayScale indicates that the average doctor's visit in the state will cost you $107.39. A dentist visit is $92.26, and an optometrist visit is $100.63. You could pay up to $427.77 for a prescription drug, and if you have pets, you will pay $52.19 to see a veterinary doctor.
Average Utility Costs in Florida
You can expect the average monthly utility costs in Florida to be $129.49 for a single adult. This translates to $1,553.88 annually for basic utilities. According to PayScale, the average energy bill is about $165.31 per month, and the average phone bill amounts to $176.22 per month.
Other Expenses to Consider in Florida
Other expenses to consider in Florida are vehicle insurance and home maintenance costs. You should also factor in property taxes and entertainment costs. Florida has a warmer climate that encourages outdoor exercise, but if you want to lift weights in a gym, consider gym membership fees.
Should I Buy or Rent in Florida?
If you're considering whether to buy or rent in Florida, consider starting off renting to give you time to decide on the area you like most. You will also need to research the median home price in the area where you'd like to live and the most suitable house to buy. An apartment search can be tricky if you're not living in the area, but you could look into hiring a rental broker to help you.
What Is the Average Salary in Florida?
The average salary in Florida is $53,857. This livable wage translates to $988 per week and $4,326 per month. The lowest annual salary in Florida is $17,319, and the highest is $114,894.
You will always increase your earning potential by gaining more experience, changing your job location, or acquiring more education. Many tech professionals in Florida attend the best coding bootcamps in Miami to upskill.
Salary Comparison by City in Florida
What Is a Good Salary?
A good salary in Florida is $60,000, which is enough to cover all your expenses comfortably. You should be able to pay all your bills and save a suitable amount. A good salary in Florida should pay you more than a median household income of $51,908 per year. This amount will cover all your living expenses and leave room for savings.
Registered nurses are one of the most in-demand jobs in Florida, so you would do well to look into pathways to becoming an RN. You could also consider a career in tech to help you cover all your living expenses. With a steady income in Florida, it won't be long before you can become a homeowner.
Can You Afford the Average Cost of Living in Florida?
Yes, you can afford the average cost of living in Florida. If you receive a salary in excess of $50,000 per year, you will have enough to cover your expenses. The biggest companies in Florida all have high-paying jobs. Take advantage of job boards or bootcamp programs to help you network and land a lucrative position in Florida.
Cost of Living in Florida FAQ
Is living in Florida expensive?
No, living in Florida is not expensive. According to the Missouri Economic Research and Information Center, Miami is ranked 27th on the annual average cost of living index. The most expensive states to live in are Hawaii, California, Massachusetts, New York, and New Jersey. One of the most expensive cities is Los Angeles, California.

The median household income in Florida is $59,227. This is a bit lower compared to the national average of $65,712. According to the US Bureau of Labor Statistics, the unemployment rate in Florida is three percent. 


How much should I earn to live comfortably in Florida?
To live comfortably in Florida, you should earn at or above the average salary of $53,857 per year. This will cover all basic expenses and any additional expenses you might incur. It is important to earn a living wage that pays for all your fixed expenditures and allows you to save. 


Which is the cheapest area to live in Florida?
According to RentData, the cheapest areas to live in Florida are Washington, Baker, Desoto, Holmes, Jackson, Levy, and Madison. These areas have the most affordable rent prices for one-bedroom houses.


Which are the most popular areas to live in Florida?
One of the most popular areas to live in Florida is Sarasota, which has a vibrant art and food culture. Naples is a major city known for providing a great quality of life to its residents. It's also one of the safest places to live. Melbourne, Florida is another popular area that gives you a view of satellites and spacecraft launched from Cape Canaveral.