How to Build Your Own Business From Scratch
Knowing how to build your own business from scratch is not a process many people are familiar with. Starting your own business is both a risk and an opportunity. It will challenge you to go out of your comfort zone and learn new things. On the other hand, having your own business will not just benefit you. You'll have the chance to provide work opportunities and mentor people.
This guide will show you how to build your own business. If you're doing this for the first time, you might feel a bit overwhelmed, nervous, or excited. Knowing as much as you can about this process is already the first best step in building the business you desire.
Why You Should Build Your Own Business
Building your own business allows you to control your schedule and determine which tasks need to be delegated. Having a flexible schedule means you'll have the freedom to work from anywhere, especially if you have an online business. Hence, you don't have to be tied in just one place. If you love to travel, this is a great advantage.
In addition, being a business owner gives you the opportunity to make more money. If you are employed by someone else, you are limited to earning a specific amount of money through your monthly salary and yearly bonuses. When starting your own business, you can have access to more leads, which increases the probability of selling your products or services.
How Hard Is It to Build Your Own Business?
It is hard to build your own business. You need to set up a marketing plan, business location, business model, and a sales strategy. You might not know how to create these plans and structures, these things can be learned along the way. Getting a master's degree in business administration can also prove beneficial in creating a profitable business with excellent customer service.
How Long Does It Take to Build a Business?
There's no definite time on how long it will take you to build a business, as you also have to consider the legal structure of your organization, like registering your business. It may take time for the relevant government bodies to process the necessary documents you submit. Finding the right place to set up your business can also take time if you require a physical location.
How Much Does It Cost to Build Your Own Business?
The average small business start-up needs $10,000 as capital. For some, this might not be a significant amount but for others, it may be challenging to find ways to gather that much money. However, the money you will need to build your own company will also depend on your financial plan, what you may need in terms of facilities, or the type of equipment that will be required.
Considering your finances as a small business owner can be very difficult, especially when you are just starting out. ZipRecruiter reports the average entrepreneur earns a salary of $79,955, however, there is a wide range within this scale.
What Do You Need to Build Your Own Business?
Once you have your business idea, the next thing to do is identify the components or tools you need to create a successful business. These will lay the groundwork for you to attract more potential customers. Although this does not generate sales immediately, it does demonstrate that you have a solid business profile.
Competitive analysis: This is strategic research where you'll find more information regarding your competitor's marketing plan, products, and sales methods. Doing this will give you insights into the existing market trends. In addition, this will help determine the possible risks and opportunities of establishing a similar business.
Business website: This is another essential tool since it allows you to communicate with your customers and for potential buyers to find you. Through a business website, you can also show your complete business profile, in addition to your products and services. Your website also enhances your company's online presence.
Employee collaboration software: Whether you are starting with just one employee or more, you must determine which communication tool to use. This is important, especially if you don't have a physical office. Having the right tool will ensure your team's productivity as you see which tasks are pending or completed.
Business plan: Another vital component is the business plan, which includes your goals, vision, mission, values, and the description of the company. It will also provide you with methods and ideas for your products and services. Your plan should also include information about your clients' profiles.
Revenue projections: If you'll have investors or projects, this document shows the financial returns and the financial milestones. This component includes income projections, sales forecasts, expenses budgets, assets, and liabilities. Keep in mind what you will pay in business taxes as you consider these financial steps.
Building Your Business From Scratch: A Step-by-Step Guide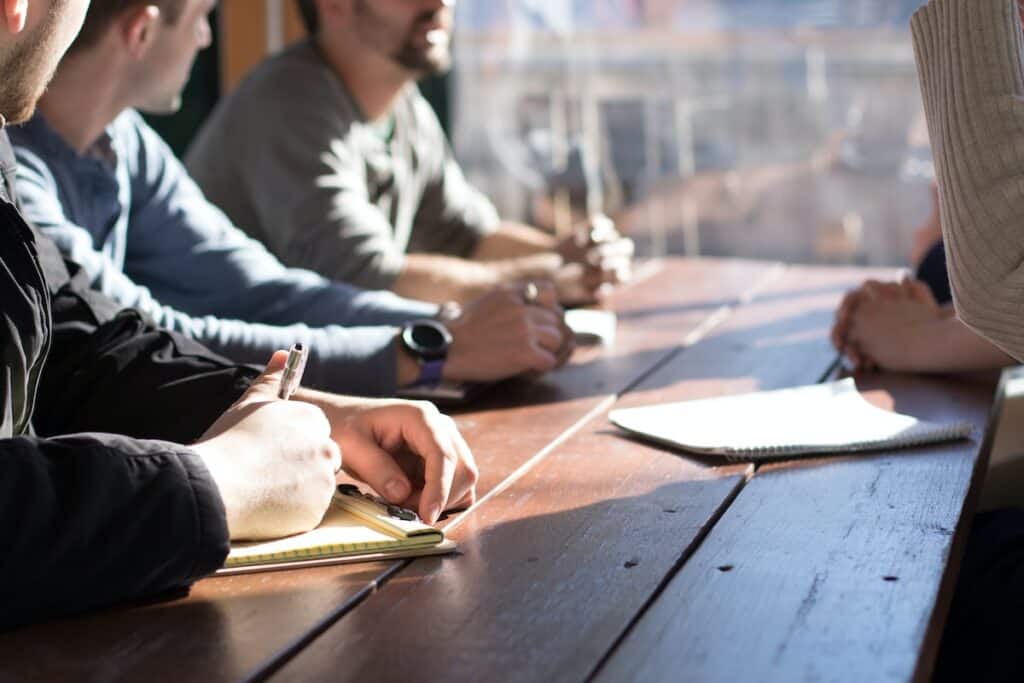 Typically, new business owners will try to find the most simple steps when building their business profile. The first step includes identifying if you'll have a business partner or you'll be a sole proprietor. You also have to think about content marketing strategies or which methods you will implement when doing product inventory.
Aside from these, you might also be thinking of loan options as a first step to running your business. Below you will find some essential tips that will make building your business from scratch a bit easier.
Conduct Market Research and Develop a Business Plan
This will determine if the service or product you want to offer is marketable. This step will help you identify your customers' profile and your advantages as a start-up business. Moreover, you'll have the opportunity to evaluate economic trends that can help you polish your business ideas. You need to have a good sense of the market you want to enter to be successful.
Create a roadmap to set the direction of the business. You can either use a traditional business plan format here or a lean startup plan. The key elements of a business plan include an executive summary, company description, market analysis, organization and management, products or services, sales and marketing, and financial projections.
Determine the Sources of Funding for Your Business
As you write your business plan, you'll better understand your financial needs. Therefore, the next step is to identify your funding options and select the best one. There are different sources of funding. You can invest money yourself, partner with investors, or get business loans. If you choose to get an investor or a business loan, you must have a detailed business plan ready.
Build Your Business Foundations
Building your business foundations means picking your business location if needed and choosing which business structures will work best for you. When selecting a location, you should carefully consider your target market. A place where people can easily see your store and get curious about what you offer would be ideal.
When choosing your business structure, you must be familiar with various business terms, such as sole proprietorship, partnership, and limited liability company (LLC). If your business liabilities and assets are not separate from your personal assets and liabilities, then sole proprietorship is for you. This also means you have complete control of the business.
Register Your Business
The next step is to register your business. There is certain information that you need to present when registering your business. You must know the business name and business address, ownership status, management structure, and number and value of shares. There are cases in which businesses aren't required to be registered.
Open a Business Bank Account
It's critical to open a business bank account when you're ready to receive payments or spend money on a company credit card. Having a business account protects you and ensures that you are legally compliant. Another advantage of opening your business account is that it will look more professional and let your future employees handle day-to-day banking duties.
How to Monetize Your Business
You monetize your business by selling products or services that your target market needs. You'll be able to identify those needs through market research and a profile of who your potential customers are.
You'll need to find strategies to get the word out about your business to potential customers. You can make business cards to distribute, use social media, or look into using marketing agencies to help you come up with ideas.
Do You Need Coding Skills to Create a Business?
You don't need coding skills to create a business unless your business is tech-related. If your company offers web development or programming services to other startup companies, you must know how to code, especially if you're just starting and don't have many employees. You can opt to attend a business bootcamp to help you gain the skills you need to build a business.
Gather Feedback, Reflect, and Iterate
Creating your business may take a lot of time. There will be things you're going to encounter for the first time, like creating a business plan template, that will force you to go out of your comfort zone. It could feel scary at first, but as you go through this step-by-step guide, you'll know that each step is doable and feasible.
You can seek out mentors and inquire about their mistakes so you can learn from them. Ask for tips about overcoming important issues such as licensing requirements. There are a lot of resources on the Internet that can enhance your knowledge. Also, you can use online courses to learn the financial skills that small business owners need to tackle any challenge.
How to Build Your Own Business FAQ
Can you build a business by yourself?
Yes, you can build a business by yourself, as many entrepreneurs have done in the past. You just have to determine what type of business you want and your target customers.


How do I create a business plan?
Knowing the market conditions of your target clients is the first stage in developing a business plan. It will help you make a product that will benefit your clients. Consider the steps you'll take in terms of money. Are you planning to take out a bank loan, find investors, or self-fund? A company summary and sales and marketing plans are essential components of your business plan.


What kind of small business ideas are there?
Any skill, interest, or product idea you have can be turned into a small business idea. It is subjective to each person. Notably, a small business may be cheaper to create. A small business idea can involve getting paid for services you'll be offering, buying and selling a business, or starting a logo and graphic design business.


How do you start an online business?
To start an online business, you have to know what your potential customers need and how to fulfill their needs. You have to identify your market size, start a website and then build your online presence so that you drive traffic to your website and other social media platforms.